Sports and betting have a long-standing history in Sweden
As a matter of fact, the Swedish Football League Allsvenskan began its first season in 1924, and the first Swedish Trotting Derby (Svenskt Travderby) was held in 1928. Only a few years later, a group of passionates gathered to write news articles and cover sports events. In 1934 they founded Vi Tippa - a weekly magazine with match analyses and best betting tips. This was the year Swedish Tipstjänst (today called Svenska Spel) was established too.

Digital transformation of the brand
Vi Tippa is dedicated to football and trav fans (harness racing) fans who enjoy watching their favourite sports with some extra thrill thanks to betting. For over 90 years the magazine has been printed and delivered to Swedish households every week. Later on, an electronic version has also been introduced and sent to subscribers via email. Over the years the weekly paper became very popular among sports fans and bettors.
Yet, as the media market is changing, so has to Vi Tippa. Its readers want to get tips and game analyses much quicker. That's why Vi Tippa decided to bring to life a way better user experience with its new digital-first approach.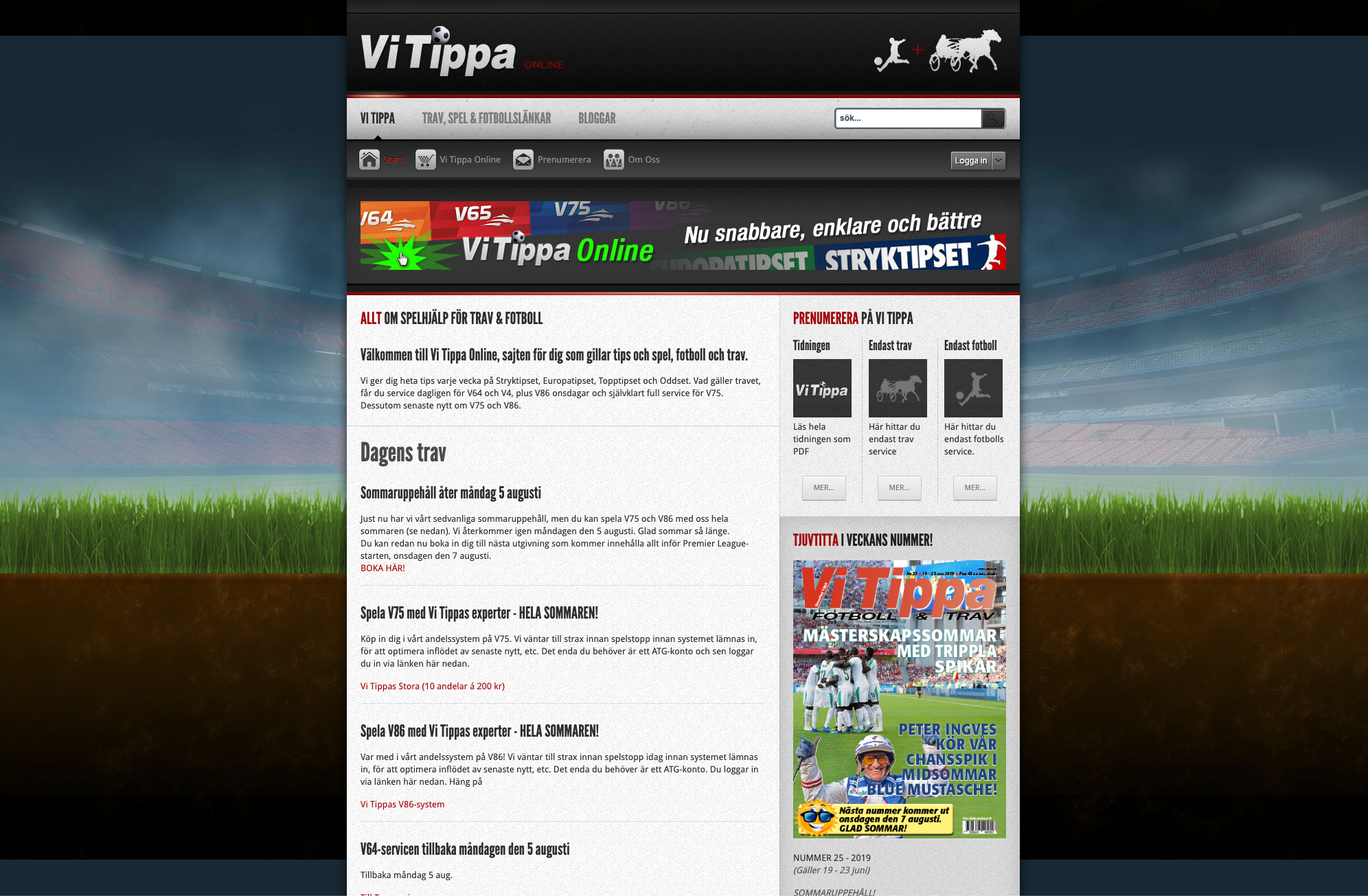 A screenshot of the old Vi Tippa website

Going from paper to digital magazine
Although going digital, Vi Tippa still wanted to stay true to its core values cultivated for so many years. Therefore, the choice of Chimera Prime as a product development partner was carefully thought over. There were a few challenges on the way that had to be taken into account, and only a devoted team could handle it right.
Building an online news portal was one thing but the magazine's editors also needed a custom-made admin panel that would reflect their unique process of content creation. We spent quite some time on interviews, casual talks and product previews with Vi Tippa crew to get to the bottom of how their process really looks like.
When it goes to quality betting tips, content verification and spell check turned out to be equally important to writing articles. Last but not least, during the works on the project, the decision about rebranding has been reached. Vi Tippa needed a new brand identity that would match its entry into the digital era.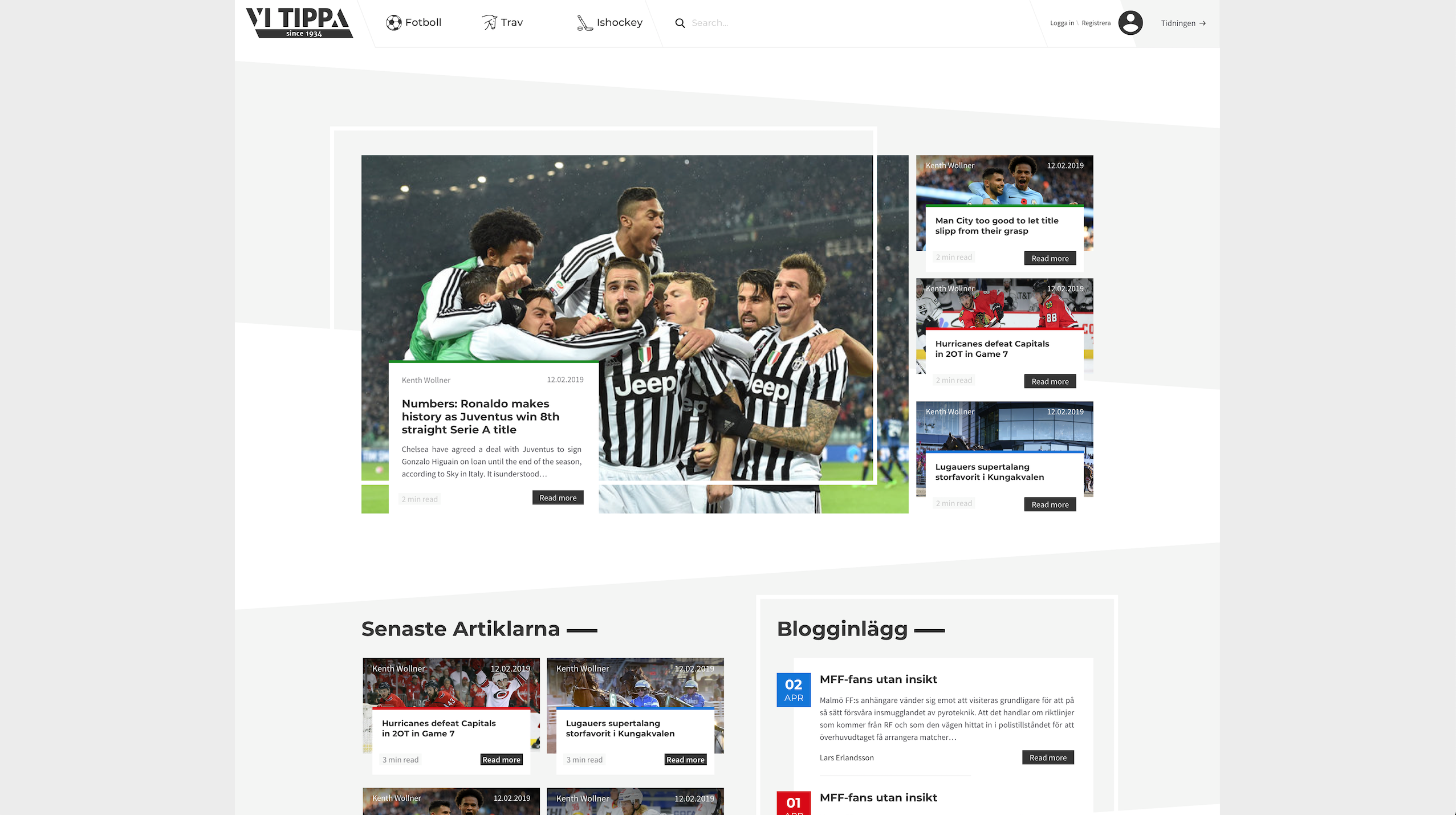 Vi Tippa's new clean modern website

Best tips fresh from the (online) oven
Vi Tippa's modern news service was launched in August 2019. Users can access free sports articles after logging in. The only paid content concerns materials which include betting tips. One can choose from a variety of subscription options - from full package (online, e-magazine and print) to digital edition with a single sports category. It is also possible now to go straight from the article with betting odds to bookmakers sites.
Apart from that, the magazine has started cooperation with SportXpert, a partner which provides solid analytical tools and a vast database. As a result, subscribers have gained access to tons of historical data to back up their bets with even more statistical information.
Vi Tippa currently offers betting tips on major football leagues and harness racing but soon one can expect to see more sports. First to come is ice hockey and tennis. Sounds interesting? Go to the new website and find out for yourself what we did together: Vi Tippa.
***
For more information on using new technologies for digitalisation you may want to visit our digital transformation page.